---
---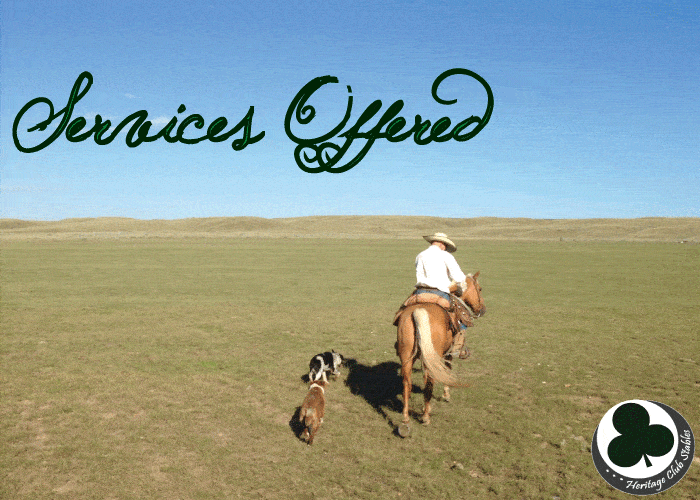 NEW! We are proud to offer a new services at Heritage Club Stables. We all love our horses but sometimes for many and various reasons, we need to part with them. Where do you start looking for the right new home? How do you advertise? How much do you ask for your horse? All very good questions, and we would like to help you. With our experience, we can help you answer these questions and help you sell your horse.
---
Bill is a handy cowboy! He takes pride in his work and most of all, he loves horses and anytime he can have a rope in his hand! If you are around him long enough, you will hear him say, "my favorite color on a horse, is the color of sweat."
Give a call for pricing details and any questions you may have.
Bill Plouffe
406-390-2057
---

Farrier
Your horse needs quality hoof care over the entirety of its life for long-term soundness and usefulness. Bill will always treat your horse as he would his own personal horses. Every horse, regardless of age, use or price, has an inherent dignity and is worthy of the very best care. He will always try to continue his farrier education through conferences and clinics.
…………………………………………………………………………………………………………………………………………………………………………………..

Colt Training & Tune-Ups
Bill has the gumption to get those young horses started for you and will also tune up your horse to be ready in the spring!
He is selective in the horses he starts and rides. He starts horses 4 and younger and doesn't particularly like to hear, "this is a great horse, you just got to watch him when you first get on, he's a bucker!"
He can't guarantee that a horse will not buck after it has been turned out all winter long, but he can guarantee that your horse will get a good share of riding and exposure.
…………………………………………………………………………………………………………………………………………………………………………………..
Day Work
Bill is always ready to ride his horse and work some cows. His schedule fills up quickly, so if you are needing help with brandings or any other "cow matters", call him quick! He is handy with a rope and has two working cow dogs.
……………………………………………………………………………………………………………………………………………………………………………………