Many breeders have been working on their breeding foundation for years. And although Hank Wilson starting his breeding in the Quarter Horse racing industry, our vision has changed a bit. Quarter Horse racing definitely has a different look to it than it did 50 years ago. Our desire is to raise horses that are sensible, beautiful and anyone can ride, regardless of experience.
---
---
---
HCS Miss Chievous
HCS Miss Chievous, or "Lil Miss", is the last in the line of Delci's grandfather's dream. Although Lil Miss has proven racing blood in her background, she is sensible, smart, and easy-going! We were excited to meet her first foal Smokey on June 17, 2015!
Watch the amazing 50 second birth of Smokey here. Ok, so the video isn't that great, but it is amazing to have caught the girl in action. And Delci was so thankful to have been there. Smokey seemed to be struggling to get his first big gulps in and she was able to pull the sack off of his head.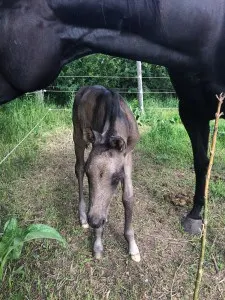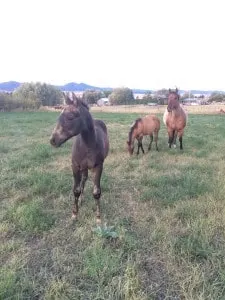 ---
---
---
Brit Pages Jay

Brit Pages Jay is fondly called "Caballo". Bill rode a couple of horses for a family in trade for this mare and it was one of the best trades we could have made! A beautiful dun color and a sensible disposition make for a great horse! On April 14, 2015, we welcomed a dun filly into the world, Caballo's first foal.
---
---
---
Dun Goin Steady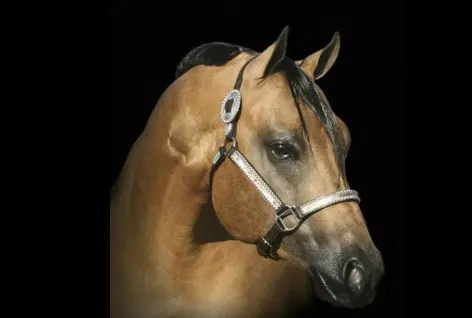 2003 AQHA Dun Stallion, World Champion Producer and Two-Time World Champion Jr Western Pleasure standing at DunsNRoses Ranch, LLC
Dun Goin Steady aka "Tex" won the titles of World Champion in Junior Western Pleasure in 2006 & 2008. His debut in the ring at the ABRA World Championships earned him a whopping 17 pts that day under Stephen Stephens of Riverside Ranch, TX.
Since then Tex has gone on to not just PERFORM but PRODUCE as his offspring continue to rack up World Titles, NSBA Bronzes, ROMs, Futurity wins, and National titles such as Washington State Horse of the Year in 2012 and winner of the Presidents Cup in 2013.
---
---
---
Our Heritage
The Future