Owning horses is addicting, isn't it? It's hard to stop at just one. And with the advent of horses being marketed on Facebook, beautiful, new horses are literally at our fingertips.
There are so many aspects to consider when buying a horse. Here are a few reminders that should be brought up and pushed out of the way first:
Don't act like you are looking for a horse if you are really not looking for a horse. Stringing along a seller in a Facebook post or elsewhere doesn't really help you or them. Let them focus on the ones who are actively looking for a horse.
Don't buy a young and/or un-started horse if you can't or don't start and/or train your own horses and you also aren't willing to pay the going rate for a good horse trainer. It just doesn't make sense.
Don't fall into the trap of saving every free horse or giving a good home to an unwanted horse especially if they have health or attitude problems.
Don't rush into the first horse who comes along. There are many great horses out there. Don't settle. Figure out your ideal horse and stick to it.
Do expect to get what you pay for. We are always on the lookout for a really good deal on a horse. We can continue training on the horse and then resell him, and we have found some really good horses for little to nothing. But it is rare to get a really good horse for nothing.
Do know exactly what you are looking for before you start looking. (Print out the "My Ideal Horse is" worksheet provided below)
Do know your price range and research what level of training you can expect to find in that range
Horses are a very big investment. Their initial purchase price is usually minimal when compared to the total cost of owning a horse, which includes land or boarding, feed, water, and all the equipment that will be purchased because of your new pasture mate.
How much does it cost to own a horse? Find out using the Horse Cost Calculator to find out the expected expenses. And also, utilize the Hay Cost Calculator
*We get commissions for purchases made through links in this post. As an Amazon associate, I earn from qualifying purchases. Click
here
for more info about cookies collected and our privacy policy.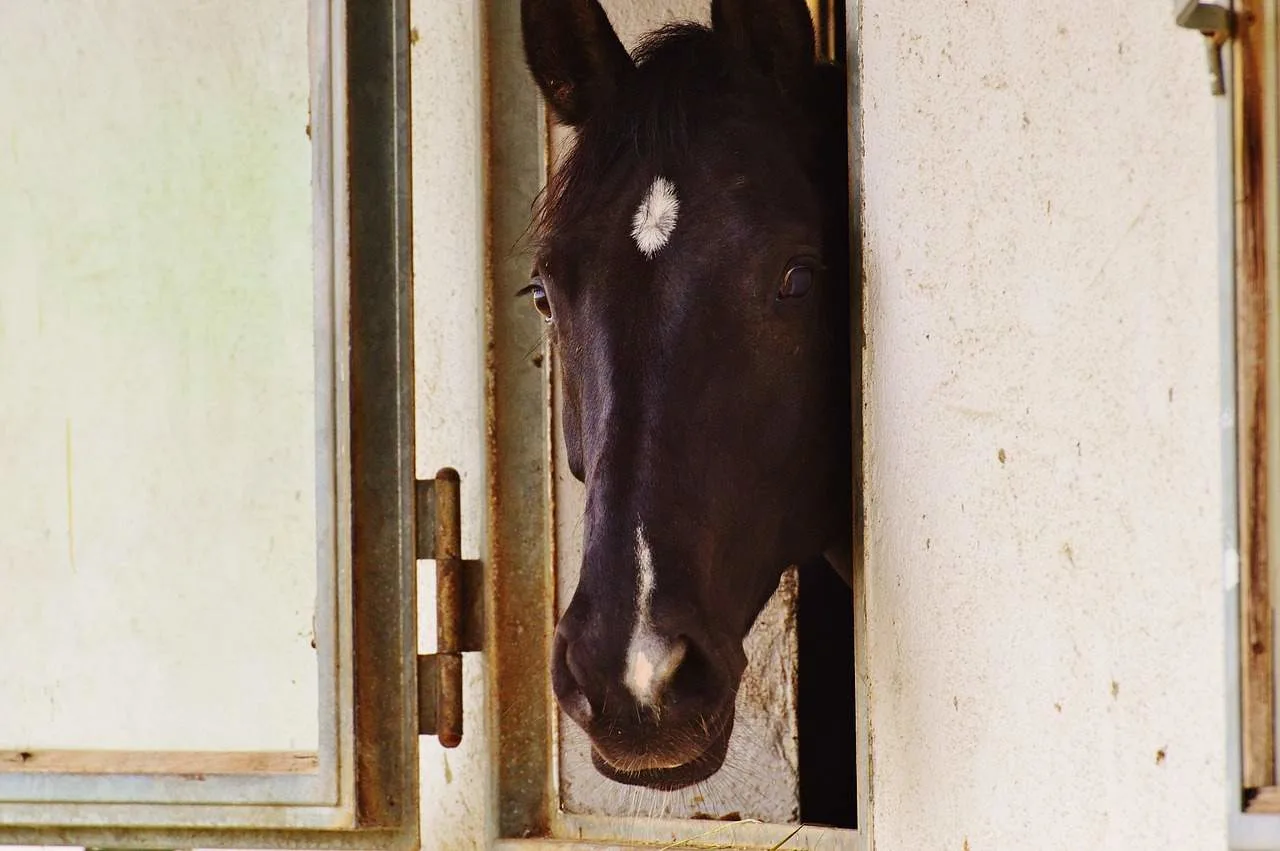 With all that said, let's explore what you should consider when buying a horse Ask yourself these questions to narrow down what you are really looking for:
Do I have enough money for a new horse?

Expenses include: the initial cost of horse, hay, mineral, shoeings, vet bills, shots/wormer, training, equipment repair, etc (Refer to the expense worksheet mentioned above)

Do I have room for a new horse?

Do I own or have access to a pasture or boarding facility for this new horse?

Do I have the ability to get hay and do I have enough room for storage of more hay?

Why do I "need" a new horse?

I need a horse to suit my pleasure horse needs.

I need a kid's horse for my growing family

I need to upgrade my horse because my kids and their skills are growing

I need a horse for my inexperienced husband/wife

I need a younger horse to expand my training skills or an older horse to be able to go farther in a particular event

I need a more specialized horse for the events I enter
Based on why you need a new horse, ask yourself these questions. And print out the worksheet (provided in the link below) to help you narrow down and find the perfect horse for you: My Ideal Horse Is
What will the horse's occupation be?

What breed of horse are you looking for?

Do you want a mare or gelding?

Ideally, what age does this horse need to be? For example, older horses are usually great for kids or inexperienced riders

What size of horse will you need?

What color of horse do you want and are you willing to pay more for color?

Will you be training the horse yourself or will a professional trainer be needed?

If you are not going to train your horse yourself, what are you willing to pay for a horse trainer? And who are the horse trainers in your area?

What is your budget for a new horse? What are you willing to pay?
Owning horses is no small matter. It is a big commitment and should not be taken lightly. But if you are positive it is the right step for you to own your first horse or to expand your herd, buying a horse can be the best decision ever!
What have you learned from the process of buying a horse?
Before you buy your horse you should also be aware of what it costs to own a horse. Use the Horse Cost Calculator.
If you are a horse owner, you may be interested in our free resource page for horse lovers. It is password protected and updated weekly. So take a moment and sign up below. You will receive an email shortly and will be able to download and print all the helpful resources.
Seriously, our free resource page is worth looking into. It has a great selection of tips and checklists that have helped me out greatly. This page is password protected and is updated almost weekly! How much better can it get?? 😉 Sign up below! Happy learning!
Get access to 50+ resources to help you gain confidence, save time, stay organized and restore hope. Your password-protected page will be updated on an almost weekly basis and weekly emails from A Life of Heritage will keep you in the know. 🙂 We want to bless YOU with this information!
All you have to do is:
Sign up below
Find your confirmation email (in inbox or junk/spam folder) and confirm subscription
The Welcome email will hold all the details and password for logging in to your resource page
Add [email protected] to your contacts to ensure that you receive future emails and updates to our resource page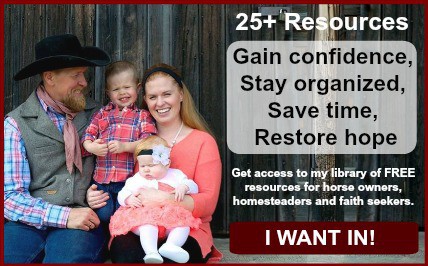 I also would love to know what would help you. What can we add to our resource page to make your life that much easier? Email me your ideas: [email protected]
If you would like a sneak peek into our resource page:
Free Resource Page for Horse Owners
Free Resource Page for Homesteaders