For horse owners there seems to always come a time when selling a horse is necessary. Whether you train and sell horses for a living or just came to the point where your horse doesn't fit your needs anymore, it seems prudent to know how to effectively market and sell your horse to get the most value. Of course, your horse is priceless 🙂 and following these 10 simple techniques will help you show a potential buyer just how amazing your horse really is.

The best way to sell your horse:
Scrubadubdub!
Get your horse as clean and shiny as possible. Now, I understand that this is sometimes a feat. During the winter months, horses are laden with winter hair and that summer sheen just isn't possible. And as springtime comes along, that hair is making a quick exit. And then spring showers display mud everywhere! Ideally, as far as coat quality, summer is probably the best time to photograph your horse, but don't let that stop you! We have sold many horses during the winter.
2. Quality pictures
*We get commissions for purchases made through links in this post. As an Amazon associate, I earn from qualifying purchases. Click
here
for more info about cookies collected and our privacy policy.
Speaking of photographing your horse, quality pictures are very important. Period. And it does take some time and effort and possibly money, to get that great shot! Although you don't want to be hiding any problems your horse may have, you do want to show your horse off. If anytime, this is your horse's opportunity to shine!
It is hard to get a good shot! With a friendly horse, getting a candid shot, out in the pasture will most likely look like this: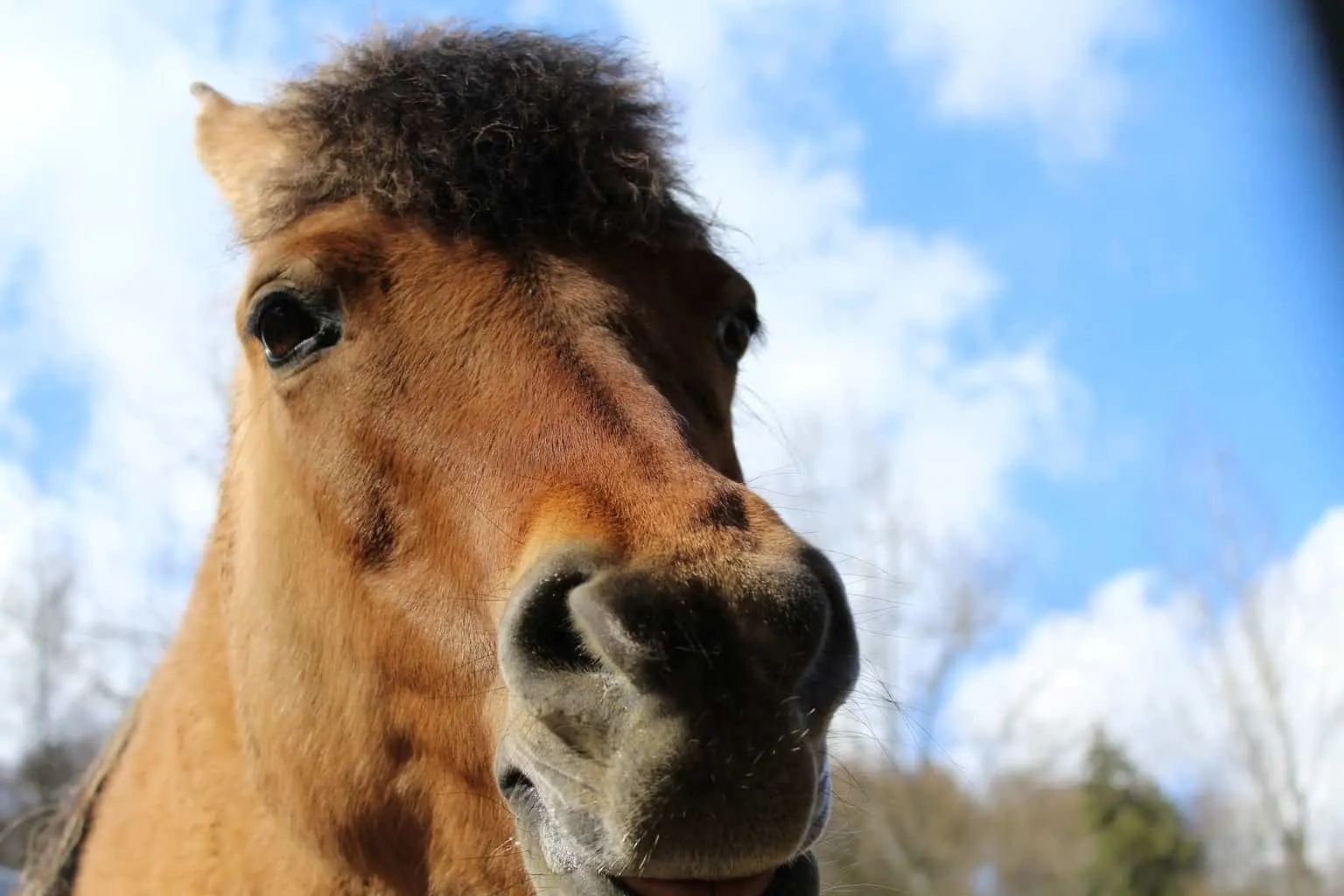 And without much effort your horse will do its best to smile a little too much: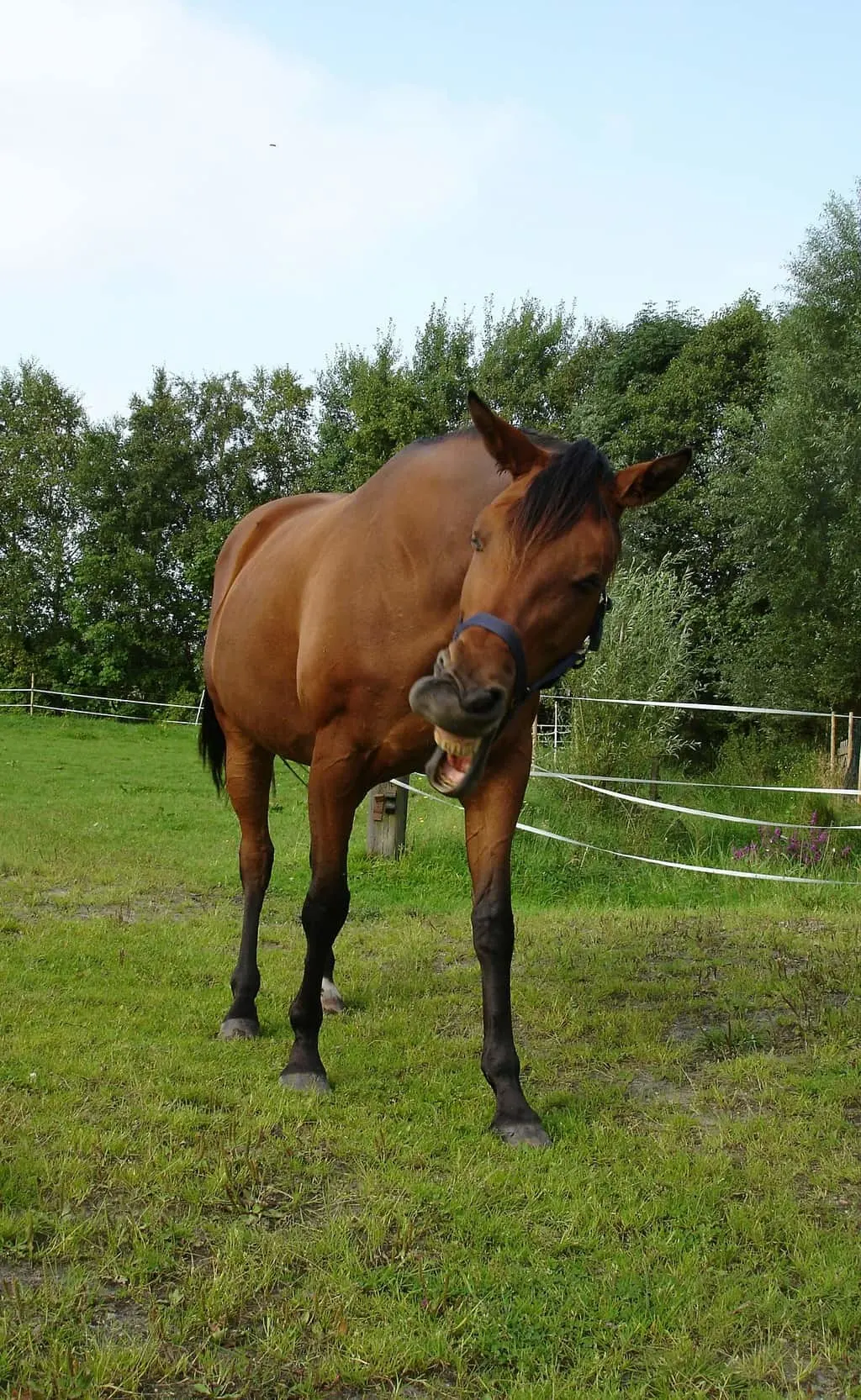 And it's just too easy to get that shot where you look like you own a rare species with a very large head and teeny body:
So, how can you take a quality picture with your lack of experience, your surroundings, and with just your iPhone? Because it is possible! Here's how:
a. Utilize the sun. Have light across the length of the horse, with no big shadows. Early morning or early evening has the best light.
b. Set feet correctly to reveal all four legs. Move the closest front leg forward and the farthest hind leg under the horse.
c. Pay attention to the distortion you will get, whether you use a lens camera or a phone camera.
d. Stand perpendicular to the horse's hip.
e. Have a camera angle below the horse's belly and aim to the hip.
f. Use flash if possible even in the daylight to help remove any shadows.
You can watch this AQHA video with these tips on how to photograph a horse.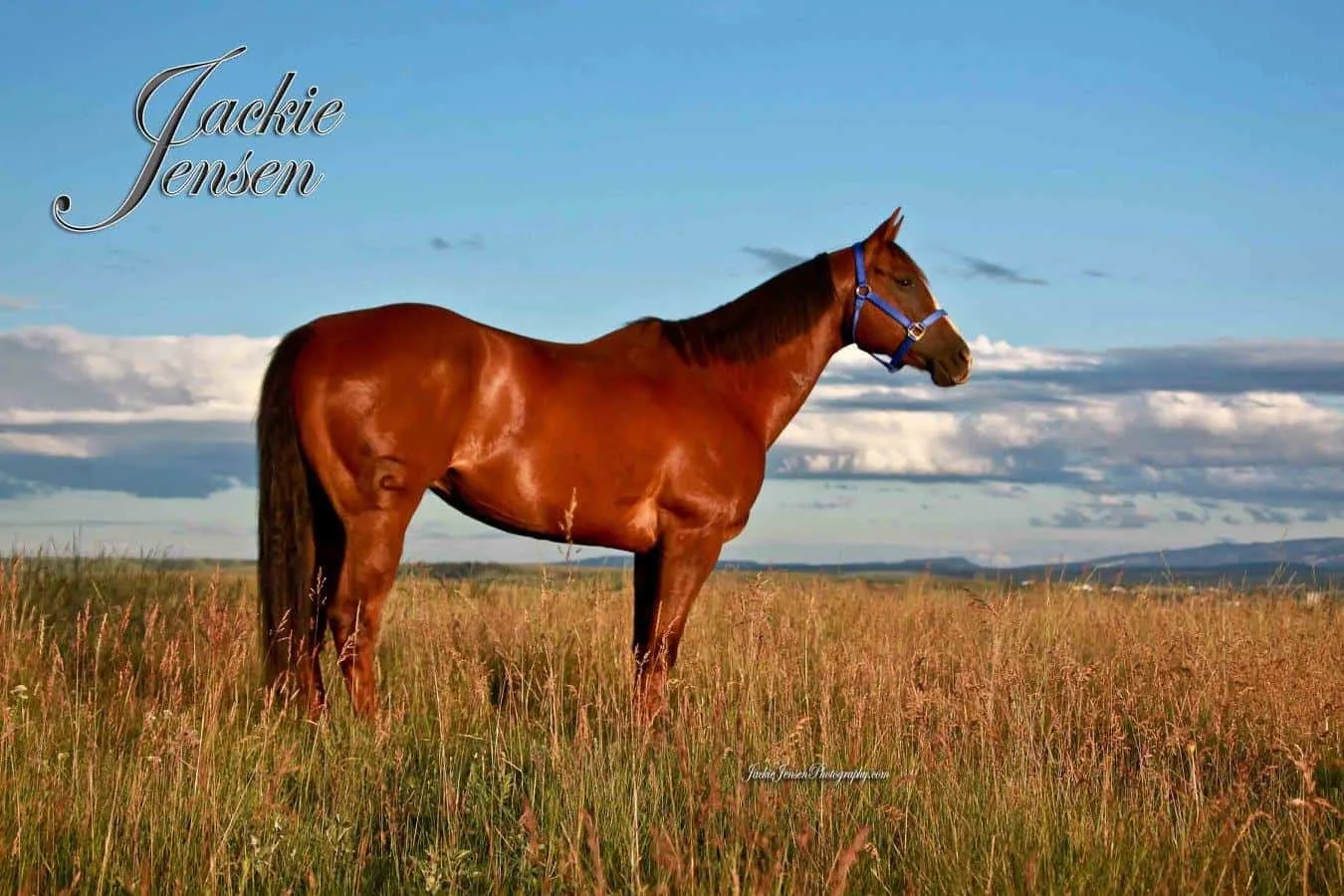 3. Quality video
From our experience, I believe this is one of the biggest selling points. People want to know what your horse is before they even make the effort to contact you. Set up a time with a friend or family member to video you when you are riding. Think about what you would want to see in a horse video if you were looking for a horse and then think about what your horse's abilities are and highlight those attributes. Also, if you have some specific ideas or ways you want your video to look, tell the person helping you. You can never assume they have the same vision as you and there can never be too much communication.
a. A good reference to keep in mind is that you will want your video to be no longer than a song. People generally don't have time to watch an eight or ten-minute video. They want to see the highlights and if the horse is worth looking into more.
b. With that tip in mind, don't trot around in circles forever before moving on. Plan out a pattern you want to follow that showcases your horse at the walk, trot, lope, stop, and backup. If your horse is more advanced and does flying lead changes, and sliding stops, etc add those into the pattern.
c. If your horse has a specific occupation, like barrel racing, for example, add to your video short shots of them in action.
d. People also like to see a horse in other environments as well. If you can cross water, a bridge, or open gates, and work through an obstacle course, these are great items to add to your video.
e. Keeping in mind the length of your song, you may have time for showing how the horse loads in a trailer, how he saddles and bridles, and if he stands while you are getting on.
f. People also like to know: how old, and tall your horse is, and how much he weighs, so add this information to the video.
g. Don't forget to add your contact information: Name and phone number and your website if you have one.
h. With all that said, as you are putting your video together, think about your target buyer. Who are they and what are they looking for? If your horse is a ranch horse, you probably won't be looking for a buyer in the show world, and vice versa. Above all, you want to sell your horse to the right person: someone who will find the most benefit from your horse's skills.
I. Splice and edit your video and publish it on YouTube
4. Honest assessment
Your horse is awesome, of course, but also be honest. You would never want to sell your horse without full disclosure. Does your horse buck, rear, or bite? Is he too fast, flighty or green? Is he too slow and doesn't have enough go? Be ready to answer why you are selling the horse. Why was he not a right fit for you?
5. Quality snippet
Write out a concise paragraph about your horse. Get specific and pare it down so there is no extra fluff or words. You can use this when you start marketing your horse. Write out the specifics about your horse (color, age, registered, size), tell about his experiences, what he is good at, and anything worth mentioning. Add where you think his niche is. Again, you don't want to sell a ranch horse to someone looking for a show horse or you don't want to sell a high-spirited horse to someone looking for their inexperienced spouse or child. Add why you are selling him and then put the video URL link in and your contact information. For example:
"Mr. Horse is a bay 4-year-old, registered with the AQHA. He stands 15.2 hands tall, weighing about 1200 pounds. He has worked cows in large pastures where he was roped off of. He was used during branding season, and also packed an elk out on the ranch and he also crosses water well. He loads, saddles and shoes well. He has a lot of energy and would work really well on a ranch where a lot of riding is required. I'm selling him because now I'm needing a horse for my kids to ride. Watch Mr. Horse's video here! If you have any question please contact ___me____ at ___________________. "
5. Showcase and test drive
Any buyer would be wise to test drive a horse. On many occasions, we have allowed people to take our horse to their home, after signing a release agreement and leaving a deposit with us. This allows for them to see if the horse will work for them in their own environment, over a period of time. If this is not an option, have a plan in place to showcase your horse (on your property or at a local arena) and allow a potential buyer to test drive your horse. You may find this example of a PURCHASE & TRIAL AGREEMENT FOR A HORSE helpful.
6. Papers and bill of sale
Have your registration papers and bill of sale together and ready to be signed and handed over.
7. Advertising
Now you have thought about and know your horse's strengths, you can find a match!
a. Facebook: There are many Facebook groups dedicated to the sale of horses. Publish all of this information that you have gathered and post it in these groups.
b. Craigslist: Craigslist has been a great tool for us in selling horses. The only downside that I have seen is that we get spam emails and/or texts from people who are clearly not even in the country. So beware.
c. Word of Mouth: Tell your vet, people at the feed store, and any of your horse connections that you want to sell your horse. You never know who those connections will turn up!
d. Flyer: You may even consider putting a flyer with the information at the feed store or a few other key places in town.
e. List: If you make an occupation of training and selling horses, keep a list of key horse people who can help you get the word out. They may also in the future send people your way who are looking for horses. Networking like this is very valuable.
8. Negotiate
Be willing to negotiate. You may want to set the price a bit higher than what your bottom line is, just knowing that there will be some negotiation that will go on.
9. Seal the deal
You've put together all your information in a professional package, marketed your horse, and let potential buys take a look, and you found that match. Congratulations! Exchange the paperwork you have already gotten together, sign paperwork, and then gratefully collect your money.
10. After the sale
If you have a habit of falling for the horse that doesn't really work for you. Stop. If you are someone who doesn't know how to start a colt, don't buy a green horse, no matter how cute or cheap it is. If you don't like speed or snort, don't fall in love with the horse that has racing blood in its background. If you only ride occasionally, don't buy the horse that has "that problem issue". All of these examples will only exasperate you and most likely the problems will escalate and the horse and you will end up being in a worse position than you started because it is expensive to feed a mouth that doesn't get the riding and care it needs. And then you are back at number 1, trying to sell your horse that you really can't say anything good about only because you both weren't a good fit, to begin with.
…………………………………………………………………………….
We have found these 10 ways to effectively market and sell your horse to be very helpful and effective! You may only sell one horse in your life or you may be like us: in the business of training and selling horses. Either way, we all want to sell our horses for their value and to the people who can enjoy them because they have found a great fit!
Are you a cowboy looking to increase your income? Here are 12 ways to increase your income. Or would it be helpful to be reminded about etiquette on the un-cowboy outfit?
---
Are you a horse owner? You may be interested in our free resource page for horse lovers. It is password protected and updated weekly. So take a moment and sign up below. You will receive an email shortly and will be able to download and print all the helpful resources. 🙂
Seriously, our free resource page is worth looking into. It has a great selection of tips and checklists that have helped me out greatly. This page is password protected and is updated almost weekly! How much better can it get?? 😉 Sign up below! Happy learning!
Get access to 50+ resources to help you gain confidence, save time, stay organized and restore hope. Your password-protected page will be updated on an almost weekly basis and weekly emails from A Life of Heritage will keep you in the know. 🙂 We want to bless YOU with this information!
All you have to do is:
Sign up below
Find your confirmation email (in inbox or junk/spam folder) and confirm subscription
The Welcome email will hold all the details and password for logging in to your resource page
Add [email protected] to your contacts to ensure that you receive future emails and updates to our resource page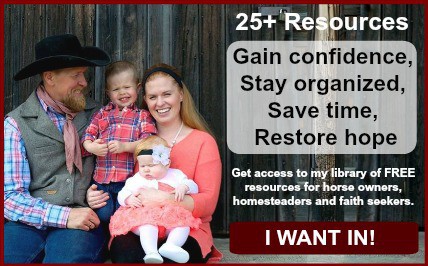 I also would love to know what would help you. What can we add to our resource page to make your life that much easier? Email me your ideas: [email protected]
If you would like a sneak peek into our resource page:
Free Resource Page for Horse Owners
Free Resource Page for Homesteaders