Pallet and Barn Wood Built In Cabinet
The porch. The dog porch. The place where all the dog hair, dirt, and mud dance around with glee. Also, the place where tools, equipment, saddles and cowboy gear, gardening items and plants, and all the boots, hats, gloves, and coats pile up. This room needed help. A homemade built-in cabinet was just what it needed!
Psst! At the bottom of this post, you can read how you can see the SECRET compartment that I put in this cabinet and what we keep there! 🙂
*We get commissions for purchases made through links in this post. As an Amazon associate, I earn from qualifying purchases. Click
here
for more info about cookies collected and our privacy policy.
Old 2×4's, pallets, and barn wood to the rescue!
The wood I found in the back pasture had been out in the weather for years! It gave it all beautiful color and character. But a lot of the boards are warped and were hard to work with. Nothing in this cabinet is square and most of the time I was trying to figure out how to fix a problem area.
To start, I wrote out what I wanted the cabinet to accomplish: Hold dog food, cat food, garden tools, beehive equipment, leather and leather tools, my tool junk drawer, workout equipment, dog beds and decorations. Phew! That's a lot!
Then I drew out my design on paper. And thought about it a lot and dreamed up this way and that way of how to put it together. So the design I started with was not what the end drawing was.
Measure! Cut! And go!
We started by anchoring the 2×4's down into the concrete floor. This is the only time my husband helped me (I'm proud of that!) Then the frame went up.
It was really hard to figure out how to do the back section with the pipe coming up in the middle of it all. I ended up doing two sections of frames on the back wall.
All the hinges on the doors are heavy duty! The doors are very heavy.
The drawers are heavy but functional. They just slide out on 2×4's. Nothing special or difficult.
Someday I may have Bill help me figure out how to put some horseshoe handles on the drawers.
I painted red and toasted almond on the back of the shelves.
And the new home for the dogs and their beds! So much better than their beds just floating around wherever on the floor.
Our very own homemade built-in cabinet!
But that's not all…there is more to this cabinet than meets the eye 😉
We have a resource page for those of you who have interests in horses, homesteading, and God. There are 50+ printable and helpful tools, charts, and checklists. AND I've included pictures of the secret compartment. I think you'll like it!
You can see a sneak peek into our resource page:
Free Resource Page for Horse Owners
Free Resource Page for Homesteaders
Free Resource Page for God Seekers
Do you have projects where you have found and used old wood? These pallet cabinets are another project I completed in our kitchen to meet the needs of our family. I used pallet boards for that project as well!
Seriously, our free resource page is worth looking into. It has a great selection of tips and checklists that have helped me out greatly. This page is password protected and is updated almost weekly! How much better can it get?? 😉 Sign up below! Happy learning!
Get access to 50+ resources to help you gain confidence, save time, stay organized and restore hope. Your password-protected page will be updated on an almost weekly basis and weekly emails from A Life of Heritage will keep you in the know. 🙂 We want to bless YOU with this information!
All you have to do is:
Sign up below
Find your confirmation email (in inbox or junk/spam folder) and confirm subscription
The Welcome email will hold all the details and password for logging in to your resource page
Add [email protected] to your contacts to ensure that you receive future emails and updates to our resource page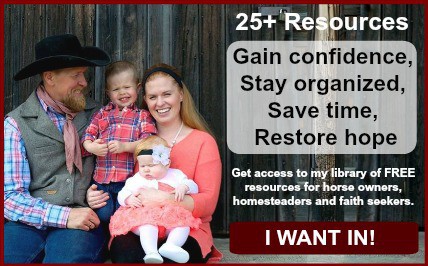 I also would love to know what would help you. What can we add to our resource page to make your life that much easier? Email me your ideas: [email protected]