Pallet Cabinets
OH! How I love before and after pictures! What an eyesore we had before I made these pallet cabinets! Not only was it an eyesore, but it was also inconvenient and wasted a lot of space! Organization is key in keeping a house moving along smoothly, but you must have the proper items to work with to get to that point! So, break out the pallets and get to work!
*We get commissions for purchases made through links in this post. As an Amazon associate, I earn from qualifying purchases. Click
here
for more info about cookies collected and our privacy policy.
Before and after
So, first off, I'm not a carpenter. But I do have an imagination! Most of my projects start with scratch on paper. I write down all I want to accomplish with my project and draw a picture of the space and then begin to draw what is swirling around in my mind. And then I go to ripping apart pallets and cutting! Always remember to choose the boards with color and the most character! Lay out the boards you will be using for doors on the ground and see what looks best.
Most of the time, my drawings are not what I end up with. Usually, there are things I hadn't thought through enough but somehow it works. I also never have any extra money to spend on my projects so I use what I have available.
It's also been great to have drawers for those pesky items that just need a home. The "junk drawers".
Measure, measure, measure! Ha! Even though I measure I always have something I cut wrong. Sigh. I'll get better with more practice, right?
If you have space where you would like to put custom cabinets, I recommend:
1. Write down all you would like it to house and hold
2. Draw out what you picture in your head
3. Look at the drawing for a week or two and think about all angles and ideas
4. Measure and measure again
5. Gather materials needed
6. Get to work!
7. Enjoy your new creations!
You may also like to see another example of a built-in cabinet made with old barn wood and pallet boards. Let me know what you think!
Seriously, our free resource page is worth looking into. It has a great selection of tips and checklists that have helped me out greatly. This page is password protected and is updated almost weekly! How much better can it get?? 😉 Sign up below! Happy learning!
Get access to 50+ resources to help you gain confidence, save time, stay organized and restore hope. Your password-protected page will be updated on an almost weekly basis and weekly emails from A Life of Heritage will keep you in the know. 🙂 We want to bless YOU with this information!
All you have to do is:
Sign up below
Find your confirmation email (in inbox or junk/spam folder) and confirm subscription
The Welcome email will hold all the details and password for logging in to your resource page
Add [email protected] to your contacts to ensure that you receive future emails and updates to our resource page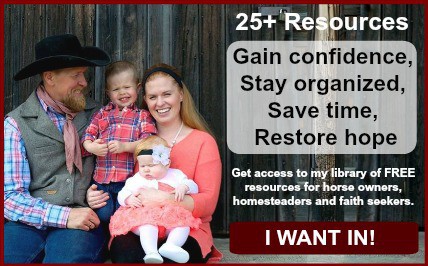 I also would love to know what would help you. What can we add to our resource page to make your life that much easier? Email me your ideas: [email protected]
If you would like a sneak peek into our resource page:
Free Resource Page for Horse Owners
Free Resource Page for Homesteaders