Is the wild, blue yonder enough?
"I haven't gone to church since I was a youngin'. Nope. Out here," he releases the toothpick from his mouth and with it, gestures towards the softly waving, knee-high grass and blue sky beyond, "out here, I have God surrounding me all day. I don't need to go to church. He's in the trees and the grass and this great blue sky. Yup." He exhales loudly as he bends over to scratch his border collie's ear after it placed its foot just above his knee, "that's all I need."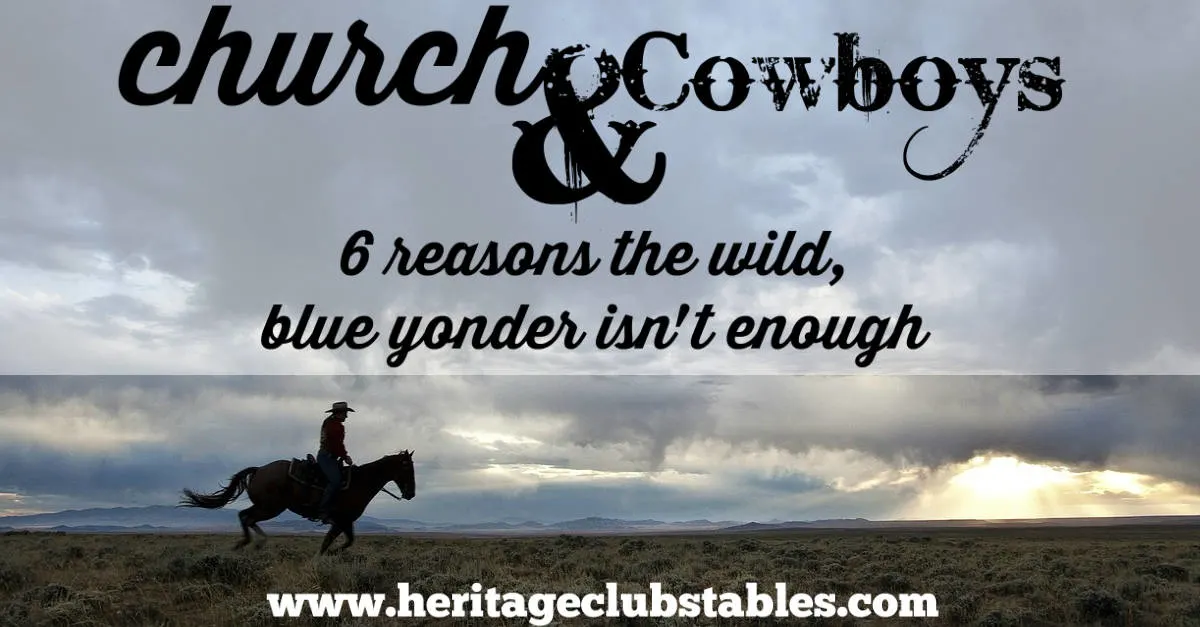 That's all he needs.
Is that all he needs? Is that all you need?
*We get commissions for purchases made through links in this post. As an Amazon associate, I earn from qualifying purchases. Click
here
for more info about cookies collected and our privacy policy.
You may be familiar with R.W. Hampton's lyrics: "Oh, the place where I worship is the wide open spaces" or the popular poem called "Horseback Religion". They are both worth listening to and reading. They really are.
Wherever we are, God is active and involved and working. He desires to help us saddle up a horse and to find that missing cow. His glory is in the sunrise, the snow melting on the range and as the sun sets out on the prairie. God is everywhere. And if we have declared Jesus as Lord and Savior, the Holy Spirit is dwelling in us and creating a spirit within us that is alive and renewed by His presence, regardless of where we spend our days.
But I would also like to make an argument that the church, the people who gather together every Sunday morning, are an important part of what was established immediately following Jesus' ascension and how that affects you and still includes you, cowboy.
We are told to meet together, and ALL THE MORE as the day approaches. If you are a Bible believing cowboy, picking and choosing from His Word is not an option. Hebrews 10:24-25 tells us to meet together and it is clearly written to cowboys because it says as plain as day: spur one another on. "And let us consider how we may spur one another on toward love and good deeds,

not giving up meeting together, as some are in the habit of doing, but encouraging one another—and all the more as you see the Day approaching." Hebrews 10:24-25

We are told to continually devote ourselves to teaching, fellowship, communion and prayer. This is written about the early church in Acts 2:42. Can this be done out in the wild, blue yonder? Of course! In our modern-day we can be listening to podcasts with our earbuds as we ride, filling our hearts with lots of good teaching. And we should continually be immersed in fellowship, communion and prayer with the Father. But you can't get around the fact that this verse is talking about being around other people. Doing life and church together: eating, talking, learning, praying. Being involved with other believers. And the perfect place to take part in all of these activities? The church. "All the believers devoted themselves to the apostles' teaching, and to fellowship, and to sharing in meals (including the Lord's Supper), and to prayer." Acts 2:42
We are told that when we gather for worship, each one is to be prepared with something that will be useful for all. If everyone was out in the mountains, hills or prairies worshiping, there would be no one to gather together for worship. We can never assume that "someone else" will be there. Believe me, in our little church we've had Sundays where this was the assumption and few showed up. Say this aloud: "I have a direct connection with God and can hear His voice. He is speaking to me." And the people you are involved with on Sunday mornings need to hear how God is speaking to you, to be encouraged by your testimony and how God is working in your life. But being prepared will take action on your part. All week you will have to be listening for His voice and sifting through what would be useful for all to hear. "So here's what I want you to do. When you gather for worship, each one of you be prepared with something that will be useful for all: Sing a hymn, teach a lesson, tell a story, lead a prayer, provide an insight." 1 Corinthians 15:26
We are told to encourage one another. That can't be done if we are solely on the back of a horse, chasing cows under the big sky. Your presence at church alone is an encouragement but as pointed out above, sharing how God is working in your life is so very important. But equally important is what you can say to the people around you: are you speaking life and hope into their lives? The time spent with your church family is a great place to start in learning the art of being encouraging. "But encourage one another daily, as long as it is called "Today," so that none of you may be hardened by sin's deceitfulness." Hebrews 3:13
We are told to teach and admonish one another. The life of a Christian does not mean a life without struggles. Sin, however it may show up in your life, will always play a factor. And it is for this very reason that we need to be involved in each others lives. Willing to warn and advise and reprimand, and willing to hear and grow when someone else does the same for you. You will never be as strong by yourself than you are with a group of people who care enough about you to speak up when you are struggling. "Let the word of Christ richly dwell within you, with all wisdom teaching and admonishing one another with psalms and hymns and spiritual songs, singing with thankfulness in your hearts to God." Colossians 3:16
The little town church near you needs your support. The church as a whole needs you. Again, we can never assume. We can never assume that the church will be there for you at Christmas, Easter, or your families baby dedication if you and all the other Christians in the community aren't going there regularly. The church can't survive with this attitude.
You, cowboy, can worship in the wild, blue yonder but please understand that it isn't all you need.
You do need more and the church needs more of you.
The wisdom gathered from the back of your horse as you see God's hand in the miracle of a calf's birth, and witness the beauty His hand has created all around you and your unwavering faith that God provides in the snow, rain and grass each year, makes you invaluable to the body of Christ. You know that His provision will never lack and you witness miracles everyday that in the telling can spark a renewed sense of hope. You believe that you are surrounded by God in your wild, blue yonder, and the people of the church need to hear your voice. I know I need to hear your voice.
Do you agree? Disagree? I'd love to hear your thoughts!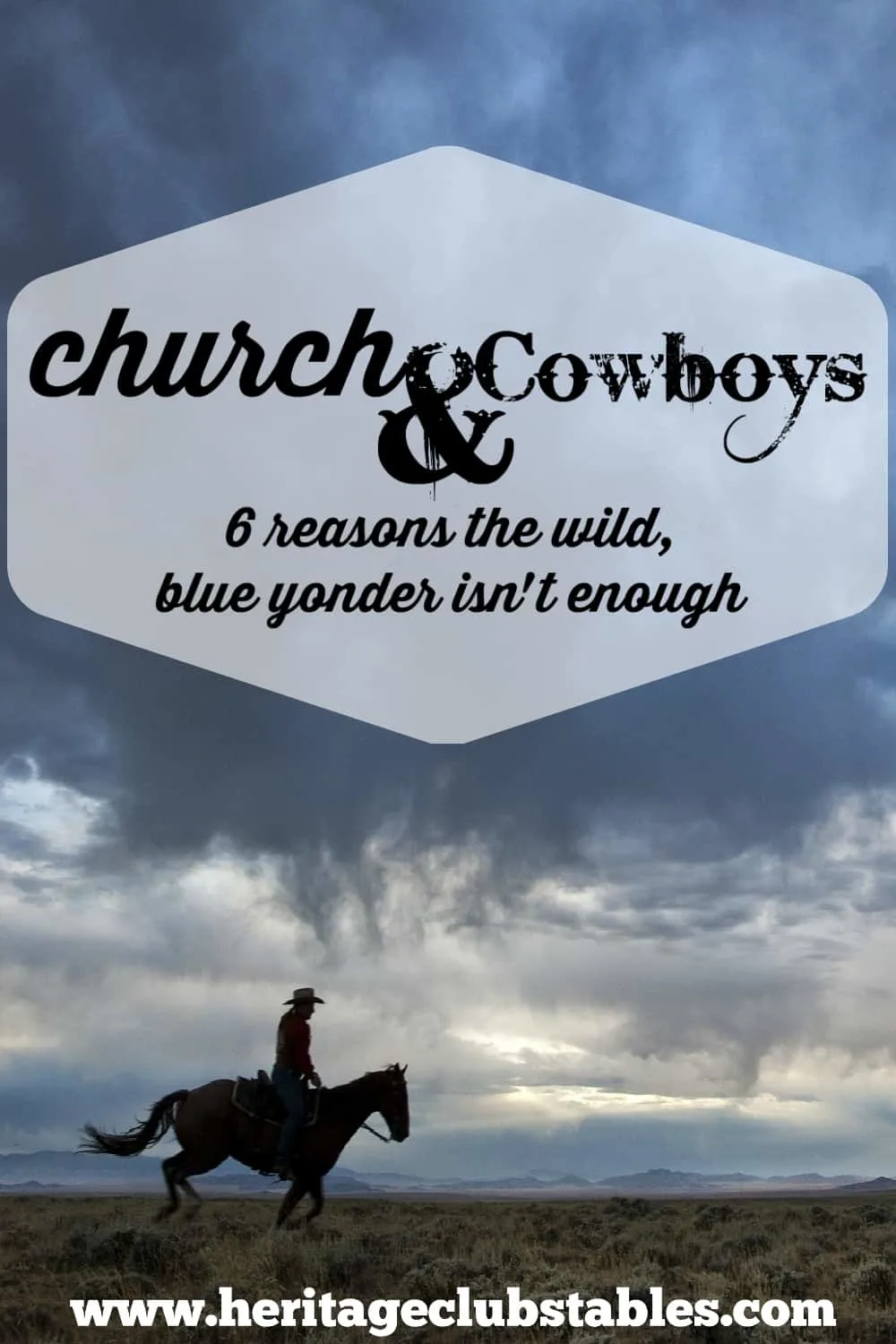 As a cowboy you may also be interested in these 12 ways to increase your income or if your cowboy etiquette is as it should be on the un-cowboy outfit.