Did Adam and Eve fight?
I've wondered if Adam and Eve fought after their debacle and subsequent, sudden departure from the Garden of Eden.
Did they fight when the ground was hard and unfruitful because God had said, "…All your life you will struggle to scratch a living from it"1.
Did they fight when Eve was having her first child and remembering that God had told her, "I will sharpen the pain of your pregnancy, and in pain you will give birth"2.
*We get commissions for purchases made through links in this post. As an Amazon associate, I earn from qualifying purchases. Click
here
for more info about cookies collected and our privacy policy.
What about when they found and buried their child and realized that truly…truly they now knew both good and evil.
Did they blame? Point fingers? Curse? Cry? Stomp and rage?
Geesh, I know we would have! 🙂
But God's Word is true. It never changes.
He did after all say, "It is not good for the man to be alone. I will make a helper who is just right for him"3 and after creating them He said, "it is very good."
Bill and I haven't been kicked out of a perfect garden, or buried a child, but sometimes we have felt like we struggle to "scratch a living" and well, child-birth pain isn't exactly a walk in the park. 🙂
I was recently reminded that despite struggles and fights and life not being perfect, it is still very good. I'm thankful for my life and the man I found because he is a hard worker and a passionate man after God's heart. He is seeking for more of God and His fullness.
Bill, you are a good man. Thank you.
Do you sometimes forget the good of life? Life IS hard. So hard sometimes. Most days I'm asking, "Why?"
Why did they die so young and why did this break down again after a particularly hard month?
Why is God asking me to give when I have nothing left and why do Bill and I still fight so passionately after 9 years of marriage?
I don't know.
But hidden in each of these struggles, in each of the problems of life, in moments (or days) of uncertainty, God is good and He is only asking you to look to Him. He is your All. Your comforter. Your hope. When all is stripped away, He remains.
1 (Genesis 3:17 NLT)

2 (Genesis 3:16 NLT)
3 (Genesis 2:13 NLT)
If you are on a God-lover, you may be interested in our free resource page. It is password protected and updated weekly. So take a moment and sign up below. You will receive an email shortly and will be able to download and print all the helpful resources.
Seriously, our free resource page is worth looking into. It has a great selection of tips, and checklists that have helped me out greatly. This page is password protected and is updated almost weekly! How much better can it get?? 😉 Sign up below! Happy learning!
Get access to 25+ resources to help you gain confidence, save time, stay organized and restore hope. Your password protected page will be updated on an almost weekly basis and weekly emails from A Life of Heritage will keep you in the know. 🙂 We want to bless YOU with this information!
All you have to do is:
Sign up below
Find your confirmation email (in inbox or junk/spam folder) and confirm subscription
The Welcome email will hold all the details and password for logging in to your resource page
Add [email protected] to your contacts to ensure that you receive future emails and updates to our resource page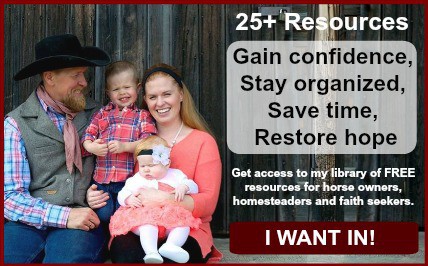 I also would love to know what would help you. What can we add to our resource page to make your life that much easier? Email me your ideas: [email protected]
If you would like a sneak peek into our resource page:
Free Resource Page for Horse Owners
Free Resource Page for Homesteaders
Free Resource Page for God Seeker