Having a goat feeder that wastes as little hay as possible is so important! Read more on How to build a goat feeder using pallet boards below! This is one post of many on our Raising Goats resource page.
---
Since having goats, I've experimented with several different ways to feed them. I started off just feeding them on the ground. Ha. Goats can waste more hay…little buggers! So, having a goat feeder that wastes as little hay as possible is so important!
This is How to Build a Goat Feeder Using Pallet Boards
*We get commissions for purchases made through links in this post. As an Amazon associate, I earn from qualifying purchases. Click
here
for more info about cookies collected and our privacy policy.
I came across this picture and decided to modify it a bit to fit the size of my goats.
I tore apart pallets and got to work!
I needed to add a ledge for the goats to stand on and make it all low enough for my pygmy goats to stand up on as well.
You can find a lot of articles here on A Life of Heritage that will teach you about goat care and be sure to check out

The Goat Health, and Information Bundle

–it's full of to-do lists, checklists, record keeping sheets, and resource pages that will get your new (or old) goat herd off to a terrific start!
Photo Credit: A Life of Heritage

You are organized. You are knowledgeable. You are proactive. This is how. Click below to get this binder in your hands to avoid common errors that affect your goat's health. These records are your freedom and your goat's optimal health.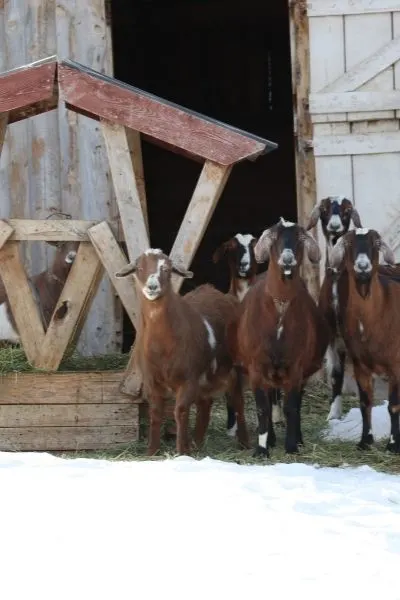 I sandwiched it into the fence line and now it feeds two sets of pens.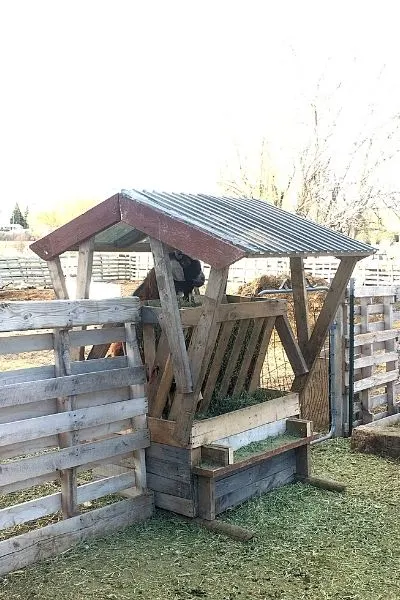 I've found that it is best to keep the "trough" part cleaned out each day or it just keeps filling up with the fine particles of hay. And I don't feed the goats more hay until they have cleaned up the previous feeding. At this point, I also had their mineral to the bowl I screwed down. This has kept the mineral dry and readily available to them all year-long. We were able to get the best alfalfa hay this year! Spoiled goats 🙂 This goat feeder has been a great addition to our little farm!
Update: I do use this mineral feeder for my goats now!
About a year after making this feeder I did a little more work on it. Hay would fall under the feeder and make a great place for the chickens to lay their eggs! But it was hard to get to and the hay just piled up. So I enclosed the bottom portion with more pallet boards. I also shored up the roof with 2×4's and got that more secure and stable.
You may also want to check out these goat pallet shelters I built to keep out the cold Montana winter wind and snow. Our goats are a priceless addition to our families but the cost of keeping them safe, fed, and warm can sure add up! It's great to be able to build the things they need out of recycled wood.
What have you found to be the best way to keep the hay loss at a minimum?
You can also check out this goat feeder as well.
If you are on a journey to self-sufficiency, you may be interested in our free resource page for homesteaders. It is password protected and updated weekly. So take a moment and sign up below. You will receive an email shortly and will be able to download and print all the helpful resources. 🙂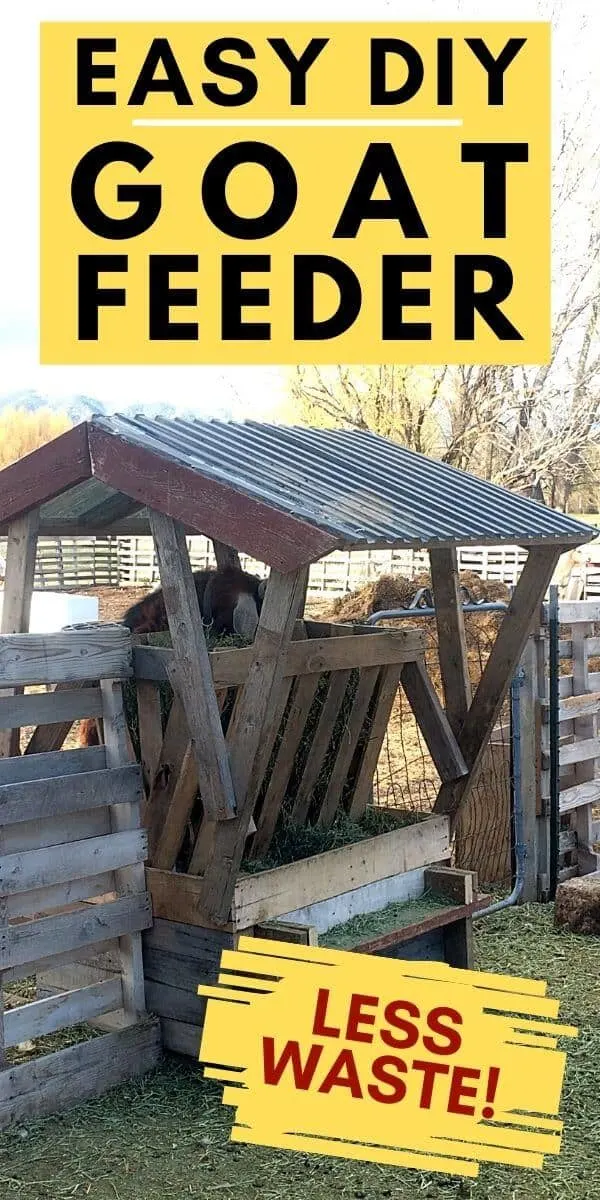 Seriously, our free resource page is worth looking into. It has a great selection of tips and checklists that have helped me on my goat journey. This page is password protected and is updated weekly! How much better can it get?? 😉 Sign up below! Happy learning!
Get access to 50+ resources to help you gain confidence, save time, stay organized, and restore hope. Your password-protected page will be updated on an almost weekly basis and weekly emails from A Life of Heritage will keep you in the know. 🙂 We want to bless YOU with this information!
All you have to do is:
Sign up below
Find your confirmation email (in inbox or junk/spam folder) and confirm subscription
The Welcome email will hold all the details and password for logging in to your resource page
Add [email protected] to your contacts to ensure that you receive future emails and updates to our resource page
I also would love to know what would help you. What can we add to our resource page to make your life that much easier? Email me your ideas: [email protected]
If you would like a sneak peek into our resource page:
Free Resource Page for Horse Owners
Free Resource Page for Homesteaders