Inside: Besides this article, there are more beekeeping resources to take a look at. Learn a great way on how to install a bee package! Print out a FREE PDF step-by-step guide. Join me, an average individual like yourself, in this adventure!
---
Spring is here (or at least is always around the corner!) So, it's time (always time!) to start thinking about bees!
There is so much to learn about bees and I'm right there learning with you! The beauty of bees is that you don't have to know everything about them, you just need to know someone else who knows everything!
*We get commissions for purchases made through links in this post. As an Amazon associate, I earn from qualifying purchases. Click
here
for more info about cookies collected and our privacy policy.
I've just recently installed a package of bees for the first time and I'm going to go into detail in this post on how to install a bee package. Just keep in mind, that there are different ways to do things depending on preference, how we were taught, what's worked best in the past and the area we live in, and if you are an experienced beekeeper, someone who works in an apiary or are an average individual like me, learning about bees. All of these factors affect how a bee package is installed. You will be seeing first-hand footage of me learning (in action!) how to do this. And I hope it is the first of many as I expand my beehives.
So, I'm going to share with you what has worked well in the heart of Central Montana for a man who has raised bees for over 30 years. (Thank you, Tom, for helping me!) If you are new to beekeeping, read this post on 10 helpful tips to get started with bees to see why I believe it's important to find someone in your area to help you.
I've laid out in this PDF the steps on how to install a bee package: How to install a bee package steps. Feel free to download it, print it out, and take it with you to the hive as you install your package of bees.

Watch my latest video to watch from beginning to end, how to install a bee package.
I hope this video has helped you and I would love to hear from you. Please leave me a comment below! What did you like most from this video? What did you learn? What do you do differently?
Did you get value from this video?
Thank you so much for watching. I look forward to continuing this journey together in the next video.
PS I would love to hear what your biggest aha and takeaway was, and what was most valuable to you. Please leave me your comment below.
Thank you in advance.
Also, you may be interested in how I made my bees some pollen patties.
If you are on a journey to self-sufficiency, you may be interested in our free resource page for homesteaders. It is password protected and updated weekly. So take a moment and sign up below. You will receive an email shortly and will be able to download and print all the helpful resources.
Seriously, our free resource page is worth looking into. It has a great selection of tips and checklists that have helped me out greatly. This page is password protected and is updated almost weekly! How much better can it get?? 😉 Sign up below! Happy learning!
Get access to 50+ resources to help you gain confidence, save time, stay organized and restore hope. Your password-protected page will be updated on an almost weekly basis and weekly emails from A Life of Heritage will keep you in the know. 🙂 We want to bless YOU with this information!
All you have to do is:
Sign up below
Find your confirmation email (in inbox or junk/spam folder) and confirm subscription
The Welcome email will hold all the details and password for logging in to your resource page
Add [email protected] to your contacts to ensure that you receive future emails and updates to our resource page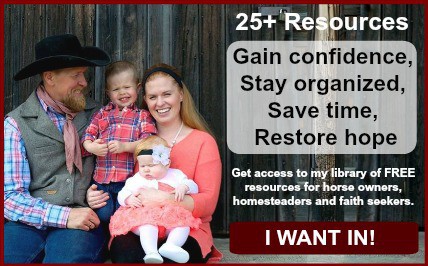 I also would love to know what would help you. What can we add to our resource page to make your life that much easier? Email me your ideas: [email protected]
If you would like a sneak peek into our resource page:
Free Resource Page for Horse Owners
Free Resource Page for Homesteaders
Free Resource Page for God Seeker
You may also want to read more:
You can also watch someone else install one