Below you will find an easy and brilliant way to build a goat house using pallets! It's a cost-effective way to use easy to find material to make great winter and out-of-the-rain shelters for your goats.
If you love your goats and are interested in more information, check out all of the information here: Raising Goats.
---

How to build a "goat house" using wood pallets
Goats are a wonderful addition to a family! We appreciate them so much! But it was time to build them a sufficient goat shelter for winter.
*We get commissions for purchases made through links in this post. As an Amazon associate, I earn from qualifying purchases. Click
here
for more info about cookies collected and our privacy policy.
To answer the question, "Do goats need shelter in the winter", yes, they do. Especially in our cold, snowy and windy climate. They do need protection from the elements as much as possible.
This summer, I spent some time building some goat shelters they could tuck into during the long, cold, deep winter drift days of Montana. Here is the outcome. They snuggle in and are quite happy!
AND these are so simple to build!
Here are several reasons I like these goat shelters:
Pallets, at least around here, are easy to find and are free.
They are so very easy to make!
Their "floor" is the ground, which means that all of the moisture from the poop and urine is soaking into the ground and not rotting a good piece of plywood. (I bet the earthworms are having a hay day under our goat houses!)
They are small (compared to a barn) and the body heat from the animals keep it relatively warm.
They can be moved and relocated if needed.
They effectively provide shelter from the wind, rain, snow, and elements.
I plan to reuse old rain gutters on the side. This will accomplish two things: keeping the runoff from hitting the sides and it will drain into a water trough that will give our goats and chickens another option of fresh water to drink.
This is how you build a shelter out of pallets:
Materials needed:
• 3 pallets
• 3 2×4's from a torn apart pallet
• Screws
• Roofing Material
• More pallet boards to enclose the sides so wind can't get through
One pallet is standing so it is at its tallest and the other two pallets are on their sides. The pallets are then screwed together. A 2×4 is screwed to the bottom, front to hold it all together. The roofing material chosen is then screwed to the top.
You can find a lot of articles here on A Life of Heritage that will teach you about goat care and be sure to check out

The Goat Health, and Information Bundle

–it's full of to-do lists, checklists, record keeping sheets, and resource pages that will get your new (or old) goat herd off to a terrific start!
Photo Credit: A Life of Heritage
You are organized. You are knowledgeable. You are proactive. This is how. Click below to get this binder in your hands to avoid common errors that affect your goat's health. These records are your freedom and your goat's optimal health.
As you can see in this next picture, I enclosed the sides with more boards:
And I added a pallet on the front to help block the wind.
This is a frame of another pallet shelter:
I framed in a "porch" on two of the shelters I made. So they can get out of the sun but be cooler in the breeze in the summer months:
Again, on these pallet goat houses, I added a pallet on the front to block the wind more.
And I also screwed boards onto the outside walls to block more of the wind.
Happy goats in the Montana winter!
There are so many good ideas on how to make a goat shelter! For me, especially considering cost, these work best for us because we can always pick up free pallets in our area. And for these shelters, we had the roofing material given to us for free after a porch on a house was torn off. So really, I only paid for some screws. That works for me!
What goat housing has worked best for you?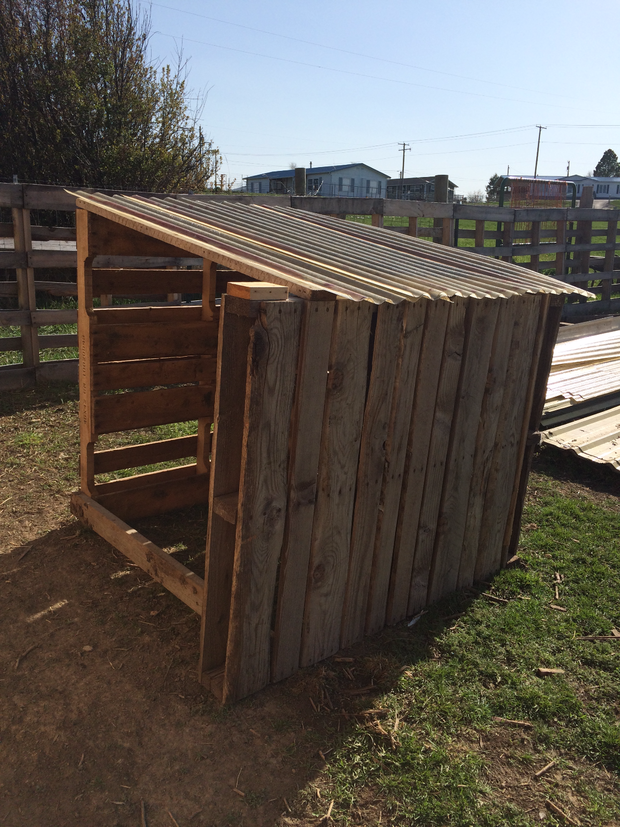 SHELTERS FOR SMALL ANIMALS
Notes

SHELTER OPTIONS:
By far these are the cheapest and easiest Pallet Goat Shelters to build for your goats. They are a perfect size and can be made very inexpensively and don't require a lot of room.
Barns or Lean-To's
Tarp covering cattle panels hooked to pallets
A-Frame plywood house
MORE OPTIONS:
Follow this Pinterest Board for more great ideas and to see pictures of the ideas listed above.
READ MORE INFORMATION ABOUT SHELTERS FOR GOATS:
Goat Care in Winter (Video). This video will walk you through how to care for goats in the bitter cold of winter. (And it was recorded when it was well below 0!)
You can also read more about shelters ideas here: The Goat House


IMPORTANT CONSIDERATIONS:
Your goats will need shelter from the rain, snow, wind, and elements. Goats, out of all the ruminants, struggle the most regulating their body temperature.
Pneumonia Treatment and Signs (Video). Careful thought about shelters will help keep your goats warm and dry, which decreases their risk of pneumonia (Post), which is the leading killer in goats.



You may also want to check out this post on the goat feeder I built using pallet boards as well!
I also realized that this shelter wasn't big enough for my family of goats in the spring. So I built a double sized goat shelter <=== Check it out and let me know what you think!
This Pinterest board has more ideas to get you thinking about goat houses for your goats: more goat house ideas
Seriously, our free resource page is worth looking into! Check it out below!
I also would love to know what would help you. What can we add to our resource page to make your life that much easier? Email me your ideas: [email protected]
If you would like a sneak peek into our resource page:
Free Resource Page for Horse Owners
Free Resource Page for Homesteaders