Multiple streams of income may not be at the forefront of your mind. But when pay-day comes and the bills roll in, you wonder why the job you love the most isn't cutting it. And then you realize that multiple streams of income and learning how to increase income just may be the way for you to keep doing what you love.
Here are 12 ideas on how you can earn and increase income as a cowboy:

Start colts. Let's face it, the best way to make money is when you can be getting paid twice for doing one job. Hone your horseman skills and put those skills to work starting horses for people who just don't have the time or the gumption to get it done. When you are on the ranch working cows, you will be paid for the work you are doing for your boss

and

the owner of the horse. A great way to double your income and time.
Re-start horses. There are a lot of people out there who own horses but through the winter, because of weather, jobs, and lack of time, don't ride their horses. But springtime comes and they want their horse dusted off and the snort rode out before they kick a leg over. This is a great place for you to step in and help out. The great part about these horses is that they don't require the complete start-up a colt requires. Usually, they are ready to go to work after a few simple reminders of groundwork and that their vacation is officially over.
Sell horses. Always be on the lookout for good, quality horses that are being sold for a great price for whatever reason. Don't just buy cheap horses, buy quality horses at a discounted price. Ride them and give them all the exposure of the ranch life and sell them for what they are worth in the end.
Hunt antlers. If cleared by your boss, while out riding, or if you have some extra time, look for sheds. When you have a collection, sell them!
Hidden talent. Some of you cowboys have a hidden talent just waiting to be embraced.

Are you an artist? Sell your pictures and prints.

Are you a photographer? Sell your pictures. There are quite a few options selling stock photos online that have royalty plans available.

Do you have a way with words (and not just with the lady friends): songwriter, poems, short stories of your cowboy adventures, or musings of the meaning of life? Write them down, and get them into print.

Do you weld? There is a whole host of gifts and decor that can be welded and sold

Are you a woodworker? Pallets are usually free! Build away.

Are you a teacher? Teach people what you love and how to do what you love the most

Are you a musician? Give lessons

Do you love to restore old machinery, old cars, or motorcycles? Restore away…for a price!

Leatherwork. Join the ranks of many talented leather workers. Apprentice under someone with experience, and produce quality products, start a Facebook page and spread the word.
Rawhide braiding. If you don't already know how to do this, master the trade and begin a business.
Create a website. There are many options for creating a free website. Showcase your skills, whatever they may be, and expand from there. Explore options like featuring other people's work and items for sale that you could include on your website for a commission if sold from your site. The sky's the limit with the world-wide-web! If you do go about this option, make sure your website looks as professional as possible. Websites aren't a new thing anymore and there are astoundingly beautiful ones out there, so make yours count. This hosting has been incredible: Website Hosting

Trade. Sometimes trading for what you need is making you money by saving you money. If you need hay for your horses, for example, possibly you can trade starting or re-starting a horse for hay, or if you have haying equipment, cut and bale hay for someone and get paid in hay. Always be on the lookout for ways you can trade for what you need.
Acquire your own equipment. You may also be able to find older haying equipment to put up all your own hay. This does take time and the upkeep and fuel for the equipment but you won't be paying the retail price for hay.
Shoe horses. This does require some training but in the end, is well worth it! Not only are you able to shoe your own horses and save the money there, but you can also pick up trimming and shoeing other people's horses as well. Take the time to learn this profession well, you not only are dealing with the health of the horse, but you have entered the eye of the public as well.
And if all else fails, marry someone with a great job in town! 🙂
These 12 ideas on how to earn and increase income as a cowboy are by no means an exhaustive list, but hopefully, it has gotten your wheels spinning! The job of a cowboy is never done. But the job you do is so very important! Keep it up!
What idea do you like the best? What are other ideas you can think of or do now, to add to the list?
*We get commissions for purchases made through links in this post. As an Amazon associate, I earn from qualifying purchases. Click
here
for more info about cookies collected and our privacy policy.
Do you work on a ranch that is "un-cowboy"? Read about 4 do's and don'ts on cowboy etiquette at the un-cowboy ranch.
If you are a horse owner, you may be interested in our free resource page for horse lovers. It is password protected and updated weekly. So take a moment and sign up below. You will receive an email shortly and will be able to download and print all the helpful resources.
Seriously, our free resource page is worth looking into. It has a great selection of tips and checklists that have helped me out greatly. This page is password protected and is updated almost weekly! How much better can it get?? 😉 Sign up below! Happy learning!
Get access to 50+ resources to help you gain confidence, save time, stay organized and restore hope. Your password-protected page will be updated on an almost weekly basis and weekly emails from A Life of Heritage will keep you in the know. 🙂 We want to bless YOU with this information!
All you have to do is:
Sign up below
Find your confirmation email (in inbox or junk/spam folder) and confirm subscription
The Welcome email will hold all the details and password for logging in to your resource page
Add [email protected] to your contacts to ensure that you receive future emails and updates to our resource page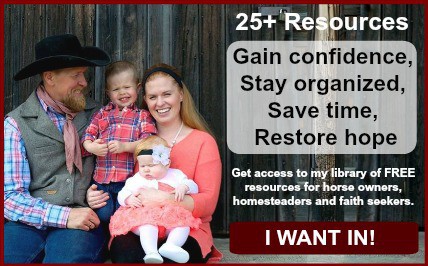 I also would love to know what would help you. What can we add to our resource page to make your life that much easier? Email me your ideas: [email protected]
If you would like a sneak peek into our resource page:
Free Resource Page for Horse Owners
Free Resource Page for Homesteaders