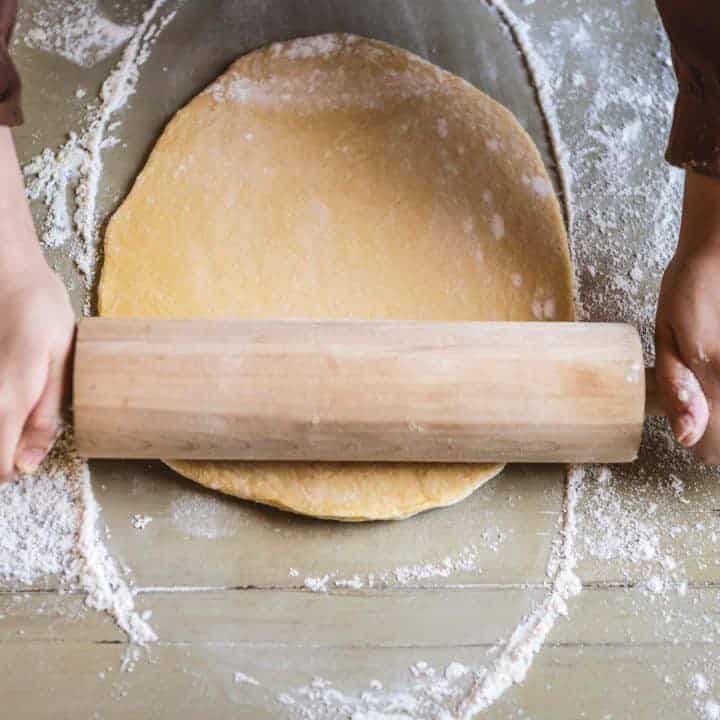 Pita Bread
Prep Time:
1 hour
10 minutes
Total Time:
1 hour
12 minutes
Easy and delicious pita bread!
Ingredients
1 Cup Water
2 tsp dry active yeast
2.5 tsp salt
1 TBSP Olive Oil
3 Cups flour
Instructions
Add 1 cup of warm water (100°F) to a small bowl.
Add yeast and allow to sit for about 5 minutes.
Add the salt and olive oil and stir well.
Slowly add the flour and mix until the dough is tacky.
Knead dough for about 5 minutes or until it is smooth.
Brush dough with olive oil and place in a bowl and cover with plastic wrap or a kitchen towel.
Allow to raise for about an hour or until double in size.
Cut the dough into 6-8 pieces.
Using a rolling pin, flatten each piece into a circle and until they are about 1/4 inch thick.
Place the pitas on a skillet that is set to medium-high heat.
Cook for about 30 seconds or until bubbles start to form.
Flip the dough over and cook for about 1 minute.
Flip again and cook for another minute.
Repeat until all balls are flat and cooked.
Top with this great recipe: Pulled Pork Gyros
Recommended Products
As an Amazon Associate and member of other affiliate programs, I earn from qualifying purchases.
*We get commissions for purchases made through links in this post. As an Amazon associate, I earn from qualifying purchases. Click
here
for more info about cookies collected and our privacy policy.