Are you ready to bring home some goats? Or maybe you are reminiscing about the years you've owned them. What did you learn? Or what will you have wished you had known before owning goats? Let's talk about that right here…
It was easy to bring home goats. I mean, who could resist adding goats to life? Ahem, no one, right?
But after a few years and kidding season under my belt…I realized that I didn't know as much about goats as I should. Some of the things I wish I had known were about issues that began cropping up in my goat's health and some of the others were more surprising details that I just hadn't thought about. Since those first days of goat ownership, I've learned so much!
*We get commissions for purchases made through links in this post. As an Amazon associate, I earn from qualifying purchases. Click
here
for more info about cookies collected and our privacy policy.
These are the 10 things I wish I had known before owning goats. Don't you agree with #5?? But does it stop us from owning them?? Nope! Once a goat lover, always one. I'd like to know what your list ends up being! Just so you know, this is one of many posts about Raising Goats here on A Life of Heritage. Be sure to check out the rest of the information available.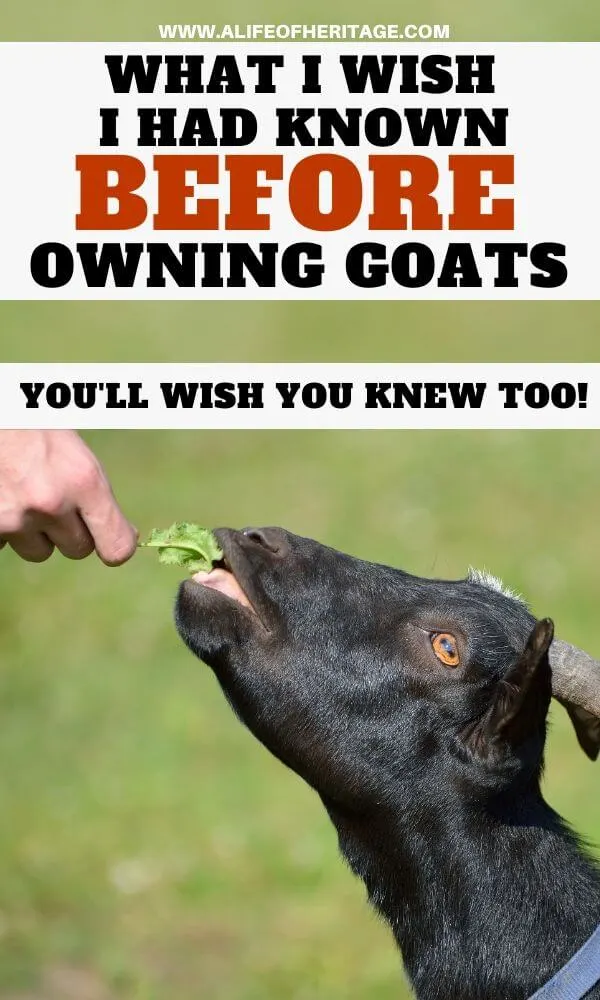 You can watch the video below or you can read the information or BOTH!
If you like this information, my YouTube channel is full of even more goat information. Please click this link: Delci | A Life of Heritage and subscribe! You can also click this link to watch this information on YouTube: What I Wish I Had Known Before Owning Goats Video on YouTube
Here are a few things to think about before you bring your first goats home.
---
What I wish I had known before owning goats: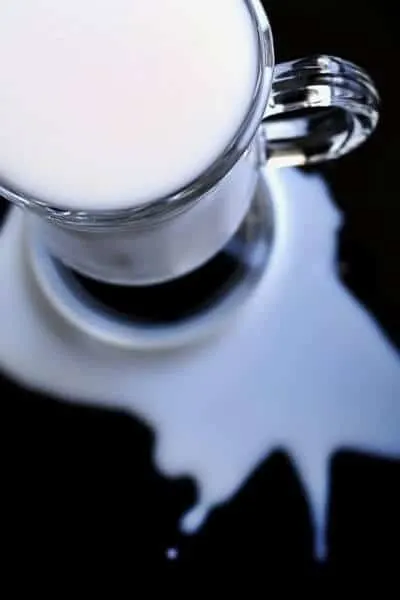 THE CREAM FROM GOAT'S MILK DOESN'T SEPARATE.
I really didn't know that goat milk doesn't separate like cow's milk. Before picking up my two does in milk, I dreamed of butter and cream. Not the case! Goat milk is naturally homogenized, which makes it as close to human milk as possible. That's why many who are lactose intolerant are able to drink goat milk without problems.
But, sadly, unless you have a cream separator…or the patience to skim a bit of cream at a time and save it in the freezer until you have a larger volume, butter dripping off the edges of your homemade bread won't be a problem. (You may want to put a cream separator on your Christmas list 😉 )
#1 was a sad revelation but the milk is still so good and so worth it!
Raw Goat Milk Information
Are you curious about raw milk and the amazing benefits that accompany drinking it? Read this to find out how it will make you healthier!
Not only is raw milk good for you, goat raw milk is also even better! Read this to find out how goats and their milk can have a hugely positive affect on your health!
Photo Credit: shop.alifeofheritage.com
You are organized. You are knowledgeable. You are proactive. This is how. Click below to get this binder in your hands to avoid common errors that affect your goat's health. These records are your freedom and your goat's optimal health.
IN SOME STATES THERE ARE RESTRICTIONS ON SELLING RAW MILK.
I had no idea that Montana, of all places…you know, the wild, wild west?…has some of the tightest restrictions on selling milk of all the states. In other words, it is completely illegal to sell fresh milk for human consumption. Double-check state regulations if you would like to sell any milk.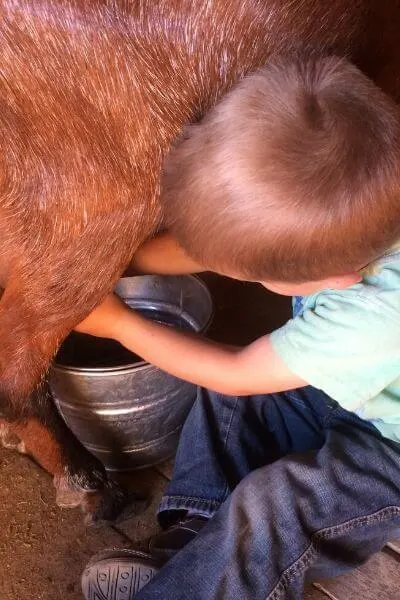 (UPDATE: Although not completely legal, Montana laws are changing! More information about this change can be read on the Raw Milk Montana Facebook page. They work tirelessly to legalize the sale of raw milk.)
Are you ready to make some yogurt??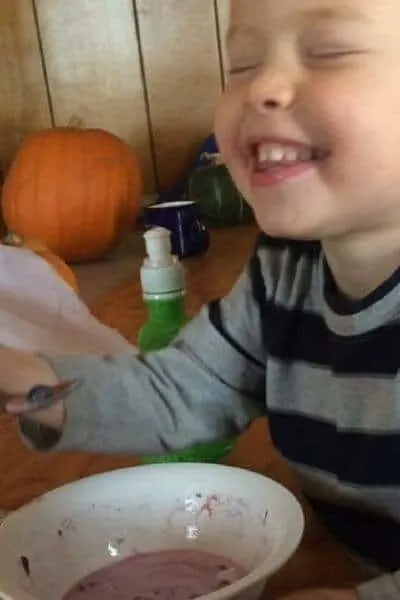 YOUR FRIDGE WILL HAVE EVERY SHELF FULL OF MILK, YOGURT, AND GOAT CHEESE.
Really. It will be full. And then you realize it only makes sense to get bottle-fed calves and a pig to help slop up the rest! You're welcome! 🙂
I can't keep up with making enough yogurt for my kids! They would eat our raw goat milk yogurt three times a day. And literally throw a fit when I say, "No, honey, we had some for breakfast an hour ago. We will have something else for a snack." I wouldn't be without my Yogotherm Yogurt Incubator. It makes making yogurt a breeze.
Raw, wholesome, healthy food for the win!!
TRACKING HEALTH INFORMATION IS REALLY IMPORTANT
The days go by…the clock whips around…suddenly a year has gone by in seemingly the blink of an eye…and more often than not, I'm muttering, "Man…it's already the beginning of a new month??" And then when I go out to feed the goats…I'm wondering…"When did I trim your hooves last?" and "When are you kidding again?" and "What dose of this medicine am I supposed to give you?"
If you own goats, it's easy to forget those really important dates and times, which doesn't matter until you really need the information. But it's so easy to keep track of the information! A goat management binder takes away the wonder about when the last thing was done to your goat and it will take away the worry of what to do when your goat gets sick or an emergency happens.
And you can download a free worksheet that will have a list of all you will need for your first goat here: First Goat Checklist
Photo Credit: A Life of Heritage

You are organized. You are knowledgeable. You are proactive. This is how. Click below to get this binder in your hands to avoid common errors that affect your goat's health. These records are your freedom and your goat's optimal health.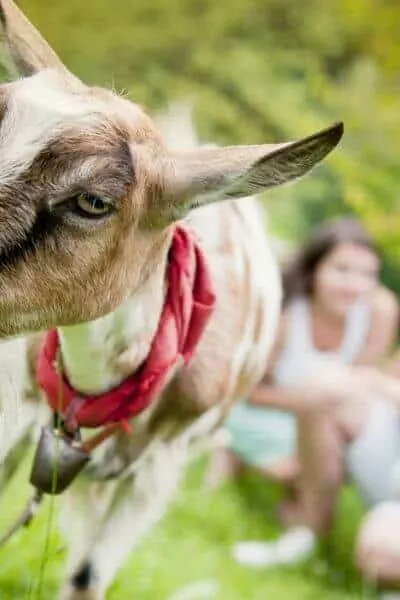 GOATS ARE PICKIER EATERS THAN PORTRAYED.
Goats eat tin cans, right? Ha! We brought home our first pygmy goats to take care of the weeds in our shelterbelt. The only thing they did was completely lay bare our Caragana bushes waist-high.
I did pull out my sweater sleeve from my buck's mouth, however. I do believe it saw the inside of his stomach because I pulled and pulled and it kept coming.
Goats really prefer brush, leaves, and broadleaf plants more than they like typical pasture grass.
Not the tin can eating creatures you imagined, is it?
If you have goats, you need to know what to feed them! Read this to find out exactly what they need.
This feeder will keep the hay off the ground. And when it's off the ground, they are more likely to eat it and waste a lot less.
Goats need minerals and these are a great feeder to put them in! Learn how to make them here!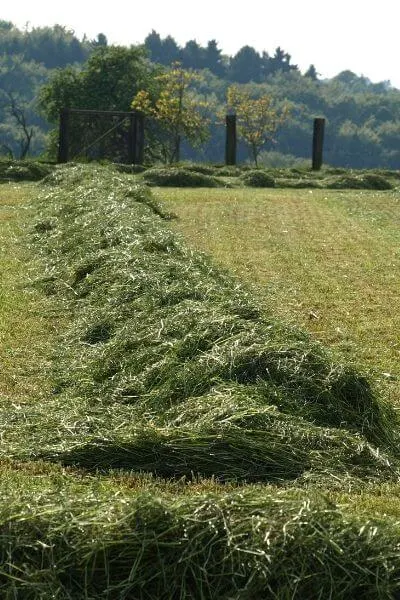 GOATS WASTE A LOT OF HAY.
I have a theory: I think goats pass down a varied version of Goldilocks to their kids: "This hay is too thick, this hay is too thin, these prized flowers in the flower bed are just right."
And although building this goat feeder has helped with hay waste because it keeps it off the ground, there is still the hay that hits the ground. It must be making really fertile ground under my goat's feet.
* Tip: Every day I clean up the hay in, on, and around the goat feeder and give it to the pigs. They LOVE it…and it makes me feel better that our good hay isn't being wasted. It also makes for less cleanup in the spring after the winter months. In the spring, if there is a sizable amount on the ground under the feeder, I rake up the hay and poop and use it as mulch in my garden!
Waste not, want not…except for goats…they waste and want more!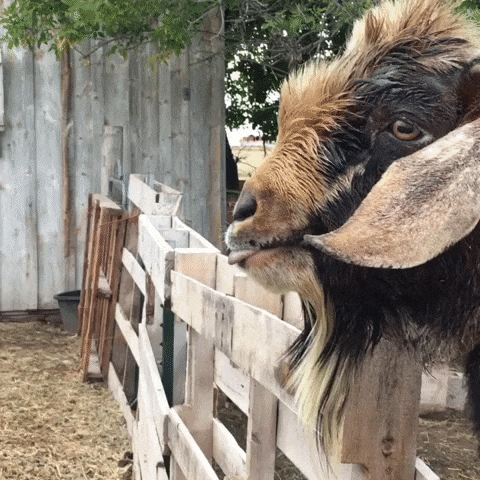 BUCKS REALLY, REALLY DO STINK.
You are warned about the stink, but the reality of the musky experience sets you back a bit. And then you have to explain to your mom why she shouldn't be scratching your sweet buck between the eyes and under his chinny-chin-chin. How do you explain that properly?
They flap their lips too. It's quite an experience!
Getting a buck is a big decision! Make sure it's the right decision for you!
If you want kids, you need to know when to put in the buck and these heat signs will help you out immensely!

Not only is it fun to watch new life to emerge into the world, but being there to watch also means you are there to help if need be. These 11 signs are so very important to watch for.

This list will give you the best start on your kidding season. Have these all in place to be prepared and ready for cute kids!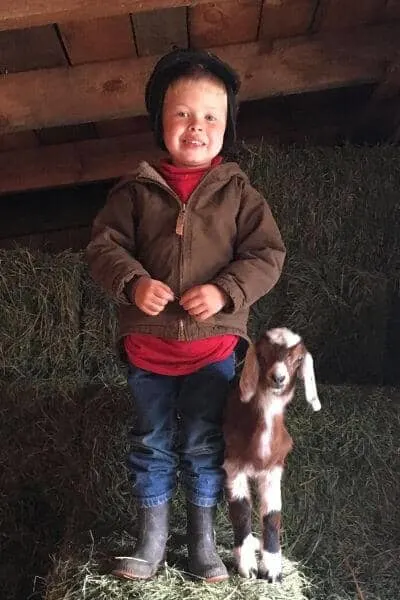 THE GOAT KIDS ARE SO CUTE, IT'S HARD TO SAY GOODBYE.
Baby goats are the sweetest little things ever. Snugly and ready to be best friends. After weaning day, there just may be a lump in your throat as you say goodbye.
And it gets worse when your kids are wailing as the goats are driving away to their new home. And you begin to wonder what it would take to own a few hundred goats…hmmm…
Ok, so you may not end up with hundreds of goats, but do prepare yourself. You will get attached and it can be hard to say goodbye.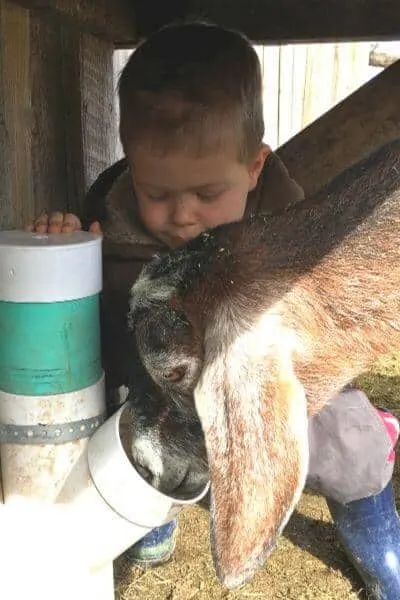 IT'S SO IMPORTANT TO CONTACT YOUR EXTENSION AGENT RIGHT OFF.
Before you get your first goats, or shortly after, it is so important to know the levels of copper and selenium in your area.
There are so many complications that can come up when goats are short on minerals, even if a free-choice mineral is offered. If your area is short on these minerals, you will need to give your goat's copper boluses several times a year and/or BoSe shots as well.
Minerals are very important! Don't push it off to later!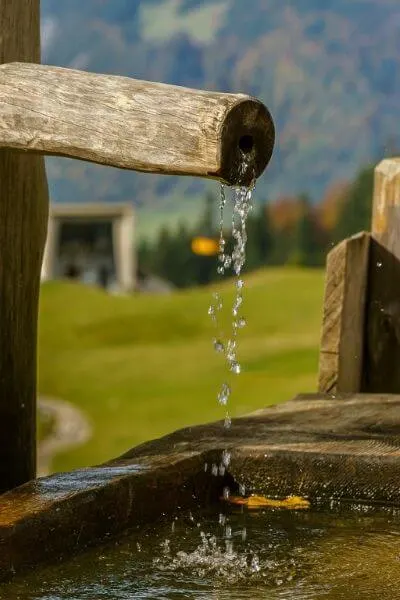 KNOW YOUR WATER SOURCE FOR YOUR GOATS.
Did you know that high levels of sulfur and iron in water will tie up the absorption of copper and zinc, two very important minerals for your goats? Just be aware of how your water could potentially affect your livestock.
Read the articles below to catch up on all the facts!
Ohhhhh minerals. Minerals are so important to goats. Without them, they will get sick, have pregnancy and breeding problems and so many more problems. Read this to learn what to do for you goats to keep them healthy.
Did you know that your water source could affect your goats? It's very important to think about. Find out why here.
Copper is an essential mineral for goats and you may need to supplement. Find out what to look for and if you will need to add this to your goat program.
GOATS ARE RATHER FRAGILE.
That doesn't sound right, does it? But in my experience, when you are raising animals for breeding purposes, there is a big demand put on their bodies to grow their offspring inside them and to produce the milk to raise them. And when a smaller animal has multiple babies it can multiply the problems at birth.
Because of this, I believe it is really important to have an emergency plan in place for your animals. In particular, knowing exactly what you will do and who you will call if problems arise when your goat is giving birth is so important. In moments of crisis, you never want to regret your decisions or lack of quick action.
If you want to learn more about goat health, then check out these articles: Goat Bloat: The Airtight Truth, CDT Vaccines: Necessary or Not?, and Goat Pneumonia: Top Goat Killer
(You may have noticed I snuck in an extra tip for you on the list. But learning about goats never ends!)
Does any of this stop us?? Nope! Once a goat lover, always a goat lover. It is all quite worth it.
If you are serious about raising goats (and by reading to the end, you must be), your next best step is to get a goat management binder. You won't regret having all of the information at your fingertips and ready to go when you bring home your first little kid. And you can download a free worksheet that will have a list of all you will need for your first goat here: First Goat Checklist
If you want to know about the best Raising Goats Course on the market, follow the link to find out more!
For more goat information: Basic Goat Health Information
Before owning goats, you may also enjoy reading: 10 Things You Didn't Know About Goats, Raising Goats for Beginners